Next Level Exploration:
Explore the stunning biodiversity of four separate biomes housed in the new state-of-the-art Perry Conservatory, where a tropical rainforest meets the deserts of the West Coast. An elevated skywalk leads guests from the two-story tropical oasis, where visitors will have views of the Rose Garden and green roof of the Brock Entry Pavilion. The green roof features  gardens which will supply the world-class bistro located on the ground floor. It is no wonder that this new addition has become the crown jewel of the Garden of Tomorrow project.
Dedication to plant conservation:
With 26,000 sq. ft. of exhibit space displaying living collections that include some of the most threatened species in the world, we are dedicated to greatly expanding our conservation efforts.
Out of the top six living taxa that are the most threatened, three are plants – conifers, cycads & cactus. 

One of our largest plant collections is our conifer collection, and with the new conservatory's tropical and desert biomes, we will add cycads and cacti to our environmental education and conservation efforts.
We have partnered with botanical gardens across the U.S. to assist our efforts. See the GREEN IMPACT section for more information.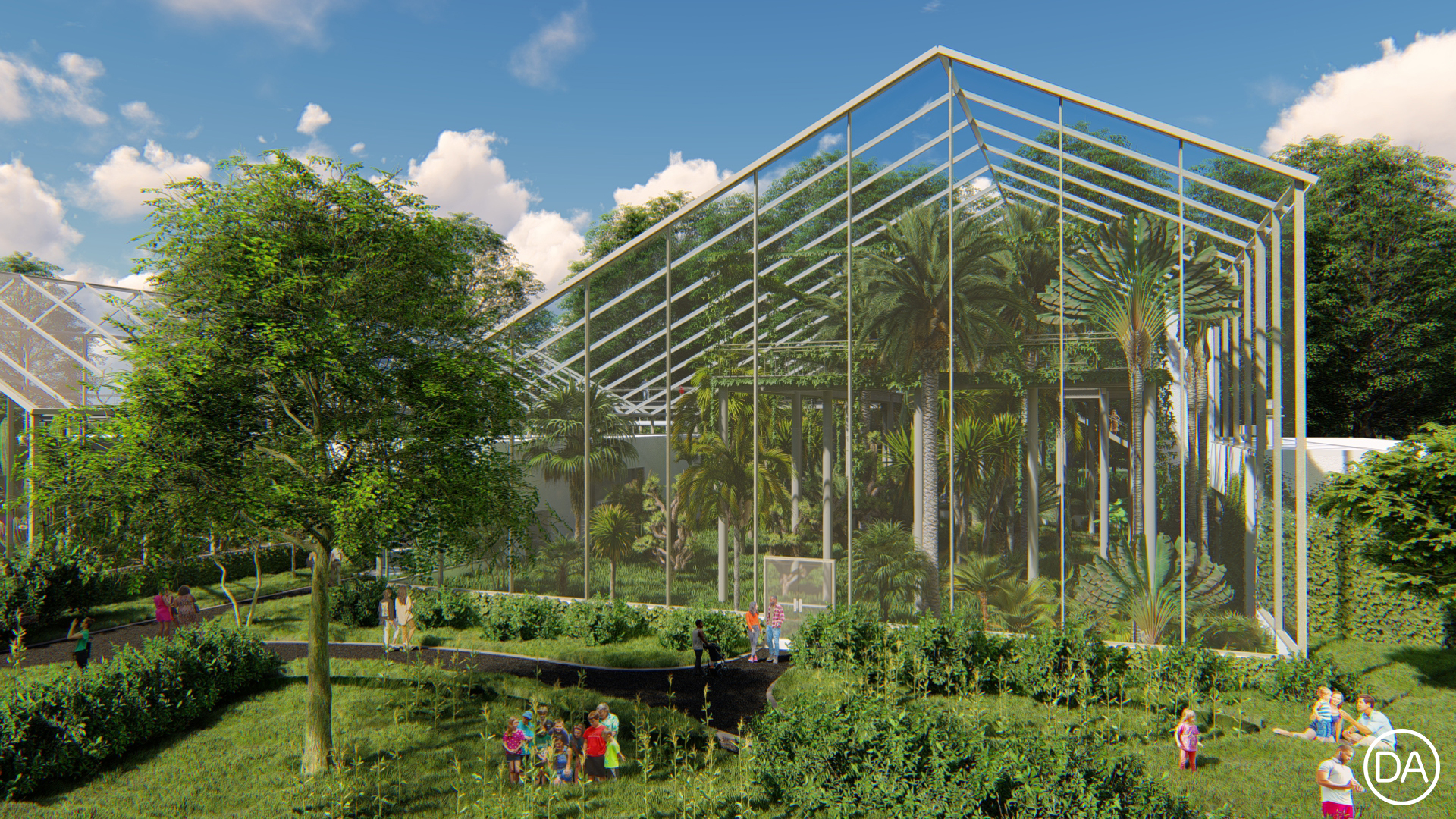 Unique rental space for events:
The Garden will have the ability to expand educational programming and visitation regardless of the season or weather. 
The additional event space will allow NBG to host events on a much larger scale, which will provide an increased source of income. All proceeds  help fulfill the Garden's mission as a 501 (c)(3) non-profit. 
 IMMERSE VISITORS IN A WORLD OF BEAUTY
 LEAD THROUGH ENVIRONMENTAL ACTION
INSPIRE THROUGH EDUCATION AND CONNECTION TO NATURE.
The Skywalk:

(a gift from Kay & Al Abinouness)
The second-story indoor and outdoor elevated skywalk provides aerial views of the tropical rainforest biome and leads outdoors to a viewing platform overlooking one of the largest and most beautiful rose gardens on the East Coast. 
The decking material is being provided by Trex, a company based in Virginia and the world's largest manufacturer of wood-alternative decking.
Green Impact:
During the design phase of the Garden of Tomorrow, the environment has been first and foremost. 
Besides all of the surrounding eco-friendly plantings and gardens, as well as the indoor conservation efforts inside the Perry Conservatory, this new structure will also feature bio-cement & wood preserved without chemicals. Visit the
GREEN IMPACT
section for all of the details.